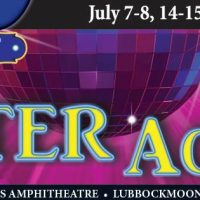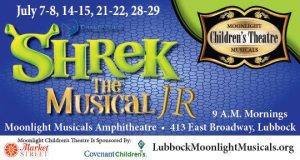 For the 3rd production of Moonlight Children's Theatre, we are happy to present "SHREK JR"!
Performances are set for July 7-8, 14-15, 21-22, 28-29, 2017 in the Moonlight Musicals Amphitheatre. Designed for youngsters, the performances begin at 9 AM.
Get your tickets online at www.LubbockMoonlightMusicals.org or by calling 806-770-2000!
Moonlight Children's Theatre will present "SHREK JR" in the stunning outdoor setting of the Moonlight Musicals Amphitheatre in Lubbock's Mackenzie Park. Based on the Oscar-winning DreamWorks Animation film, "SHREK JR" brings all the beloved film characters you know to life on stage, and tells the tale of an unusual hero who finds himself on a life-changing journey alongside a wisecracking Donkey and a feisty princess who resists her rescue. Throw in a short tempered bad guy, a gingerbread man with an attitude, and many other fairy tale misfits, and you've got a musical like none you've ever seen!
Tickets are $10 for children and adults. Get your tickets online atwww.LubbockMoonlightMusicals.org/Tickets or by calling 806-770-2000!