Bop until you Drop: Mike Pritchard
Mike Pritchard has been a staple in the Lubbock music for more than 50 years. Me and a few others can claim, yes, we knew him back when;  back when he had his first band, The Brimstones when he was a sophomore at Lubbock high school in 1967. He actually started playing the guitar when he was 11 years old.
" First serious band was called Nuthin Fancy 1974" they played were anyone would pay them to paly, and many places they wouldn't
"After that it was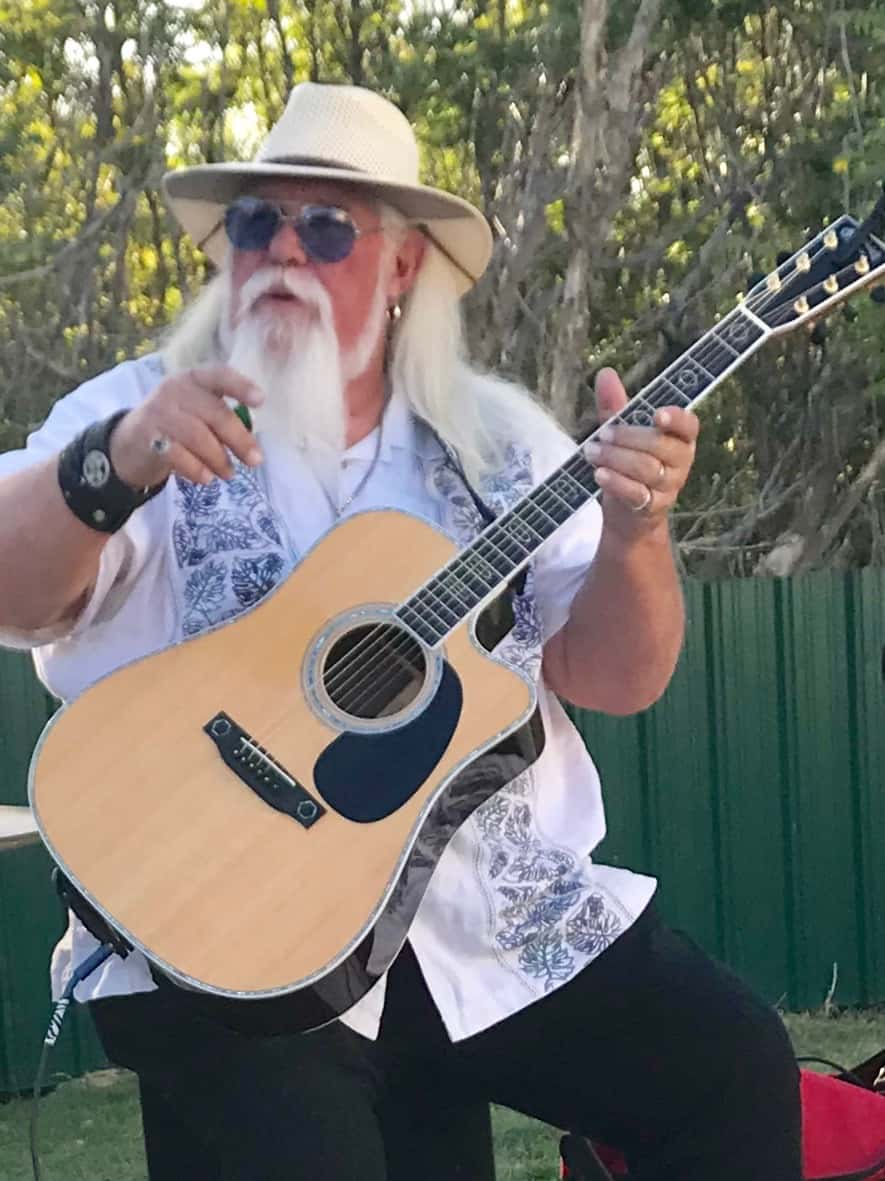 Jesse Taylor and the Combo Kings
 Jesse Taylor and Blue Thunder ,
Blue Thunder and The Lightning Horns
Mike and his bands were on the road a lot . "From Brownsville to Houston and Port Author , to Denver and all over Colorado, from Little rock to Santa Fe and Albuquerque and all points in between"
And he has spent some time in recording studios as well.
"I have three CDs of original music and a bunch I have never recorded. But that I perform those live"
His bands have had some sweet opening gigs too. "Delbert McClinton , Willie Nelson , Pat Green , Albert Collins, Rod Piazza and The Mighty Flyers , Ian Moore , Steppenwolf, Marshall Tucker and more.
One of the "Big nights" came totally unexpectedly. "Don Caldwell brought Graham Nash to LaDiosa one night while he was in town to do a photo exhibit at The Buddy Holly Center . Don's son Todd plays with CS&N and Don knew we did a lot of their music. It was amazing to see him there and we asked him to play with us and he did a whole set. He was charming and pleasant and made us feel like a million bucks. We were so excited !"
Does he get tired of playing in  Lubbock after so many years?  "Well yes and no. I have so many dear friends that support me that it keeps me constantly working on more songs both covers and originals. Picking the right places to play is really important."
" I do miss being the guy FROM Lubbock when I'm out of town. When I was on the road , folks really wanted to hear my own music more than covers. There are times to use the cover/original stuff when the place or the crowds calls for it."
" I played last week at a new venue for me in Ruidoso and the first part of the night I played covers. Then the people asked for original stuff and I did that for the last two sets. it worked out great."
"I would like to get on the "House Concert Circuit " as that is my favorite situation to play in . I have a ton of stories that folks seem to really enjoy. We (The Hat Trick Band ) are doing our 10th annual Harvest Moon Concert for Paul Johnson this September 1 th at Art Canyon . Art Canyon is a new venue for select events that is on Woodrow Road just west of Indiana Ave. It is owned and operated by one of my oldest and dearest friends , Robert Rogers"
Steven Still used to say "Bop till you drop"  " LOL Well I am going to play as long as I am happy and able to do it. It's a labor of love to me and brings joy to my heart (most of the time Lol )"
Last but not least , Mike Pritchard loves Lubbock . " We have an amazing pool of talent here , that quite frankly , is taken for granted , and it has been great for a very long time . The bar is set very high. Besides my wife and children , I am most proud of the fact that I am a part of this magical , musical dust bowl."