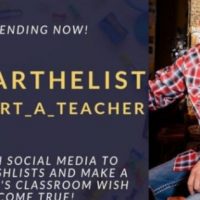 Casey Donahew and Josh Abbott have spent the weekend not just playing shows, but making sure that teachers and kids have everything they need for the coming school year. I have a teacher friend in Houston that I got some items for. But something tells me, we can do more!
Alexis, we just cleared your list! #clearthelist my fingers are going numb from all the shopping this morning! I think we've gotten about 25 of you teachers so far! Looking for some help @WadeBowen @CWandYBB @WilliamCGreen @KevinFowler @aaron_watson @joshabbottband @stoneylarue https://t.co/kjRP8h8XNH

— Casey Donahew (@caseydband) August 3, 2019
Okay everyone! This list has a bunch of books for under $10!!! I've already bought the big stuff, I just need YOU to go buy a book! It's easy! Let's #clearthelist #clearthelists https://t.co/1rNZfgPXmY

— Josh AbboŦŦ (@joshabbottband) August 3, 2019
We talked to Idalou teachers, they're classes start a bit later, August 27th. They are in need of composition notebooks, pencils, pens (black, blue, and red), highlighters, 1 1/2 inch binders, folders with pockets and brads, and notebook paper (regular rule). Basically, think of stuff you needed in school, they can use it. You can drop your items off in person at on of 180 Vape's two Lubbock area locations at 5208 82nd Street, or at 1413 19th Street. We would love to have the problems I encountered during Hurricane Harvey relief, needing trailers and more. When we clear one school, we'll move on to the next. Let's Clear The Lists!
JR