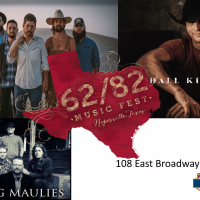 Just minutes away from Lubbock in Ropesville, Tx, we're about to see a hell of a show August 25th! It's The 62/82 Music Fest! Tickets are on sale now, and if you get your tickets now before July 31st, get a 20% discount when you use the promo code "Ropesville" Check out this line-up:
Shane Smith and the Saints
Randall King
The Hogg Maulies
& 108 East Broadway
Gates open at 5, Music will start at 6pm!
Tickets at the gate are $20 and Coolers at the gate are $20 NO GLASS CONTAINERS. ATM's will be on site, Cash only at the gate!
Keep listening to 105.7 The Red Dirt Rebel for more details. Click here and get your tickets for The 62/82 Music Fest Now!