Hi there, it's JR. I'm sitting inside our condo in Steamboat Springs, Colorado. Since this is my first year, I thought it might be fun to blog each day we are here. I'll update this each evening at least.  A big thanks to our sponsors, Slim Jim's Lock and Key, Roto Rooter, and Cook's Garage.
Day One: I woke up this morning at 5:15 AM. I didn't need to. I could actually sleep until 6 today, but I was too full of energy to sleep anymore. Today was the day. Dan, Dre, and I have been looking forward to this for months, and we didn't even know it was actually going to happen until probably December 1st.
Dre and her secret boyfriend picked me up from my house and we were off. It was finally happening. Dan drove ahead the day before with all of our equipment and most of our luggage. To be fair, he was in his element, no one thinks Dan is funnier than Dan does. Dre and I got on our flight and we were off. One flight note, Dre had the window seat and made the mistake of going to the bathroom, I immediately stole her seat. She didn't think it was nearly as funny as I did.
Dan picked us up at the airport in Denver and we started towards Steamboat. About 3 hours and 15 minutes or so later, and we were here. I mean, look at this place. This is the view from the condo I'm sitting in right now.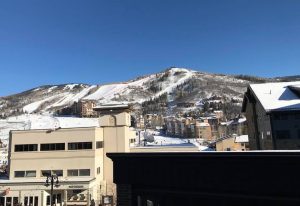 Amazing right? Check out the view at night.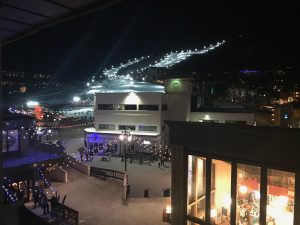 It's like a postcard.
So, we had the artist/VIP reception tonight. We had the opportunity to catch up with old friends like William Clark Gree, Cleto Cordero, Kaitlin Butts, Kevin Fowler, Max Stalling and a whole lot more. Also, we got a pretty cool swag bag, I'll have to go through it and show you what was in it later. For now, we have a show at 5am MST time tomorrow. As much fun as this is, we do take our show pretty seriously. Our Lubbock audience is what really matters. So we'll try to give a good glimpse at what it's like up here on the mountain. Tomorrow our scheduled guests are Kenna Danielle, William Clark Green, Francie Krienitz and you never know who else might show up.
Day 2
4am is an early time to wake up no matter who you are. FYI I normally start waking up at 4:30 but often I don't get out of Ben for the morning show until 5am or so. Dan and I both woke up about the same time, and Dre was getting ready shortly after. A 5am show time for the morning show, and I went to bed about 10pm.
Of course we'd have technical issues. Something about a port not being open that should be. I'm not an IT guy, I just do my best to keep up and sometimes I look impressive to my parents helping them Setup new equipment. Soup about 6am local time, 7 Lubbock time we get going. We get into a groove and then it's about time for guests to start showing up. Of course that means it's just time for another technical problem. So thankfully Kenna Danielle, our first guest is very accommodating, we get it fixed shortly after. The problem with a technical glitch this far away is, you don't have your normal stuff to fix it. It's all about ingenuity. Thankfully Dan came to the rescue. Great guest spots today from Waylon Payne, who played Jerry Lee Lewis on Walk the Line. He's also quite the distinguished songwriter. As well today we had on William Clark Green, it was fun to hear about the Cotton Fest. Visit cottonfestlubbock.com and get more information. After we wrapped the show Dan played an open mic and I got some rest, I was deeply in need of a nap.
We all went our separate ways emceeing shows around the mountain. In fact, I haven't actually spoken to Dan or Dre since noon or so. But it seems like it was a good day. This is a chance to catch up with people you see when you work a show normally, except here it's EVERYBODY you work with in one place. It's actually almost overwhelming. It's late, I'll do better tomorrow I promise. Tomorrow on the show we have a bunch of people including LeeAnn Womack! So yeah, time for bed.