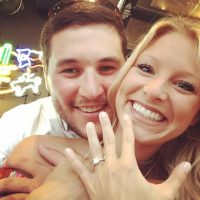 One of Lubbock's favorites, Hunter Hutchinson, and girlfriend of five years got engaged this past Sunday. Hunter and Hannah met when they were freshman in college at Texas Tech and have been together ever since. Hannah is a nurse in Dallas while Hunter pursues his music career in Abilene, for now.
He has had the engagement planned for the past month and wanted it to be the biggest surprise for his college sweetheart. When you hear the story, you can't help but "aw" at it!
A few weeks prior to the engagement, Hannah's family planned "Family Pictures" for Sunday, July 23rd. Hunter told Hannah he would be playing a show in Fort Worth that Saturday night and would be heading to Austin to debut his latest single, "Summer Love Song" (which you can hear on The Red Dirt Rebel).
To Hannah's surprise, Hunter was not actually in Austin and had a whole evening of events planned out for the two of them, and a beautiful ring to go along with it. When Hannah's family drove up to the venue their "family pictures" were at, there were rose petals laid across a small trail leading to two double doors, which Hunter was hiding behind. The doors read, "Open The Door To Your Future" and there Hunter was, on one knee. The two celebrated with friends and family afterwards at a bar nearby. Hunter says this was the best night of his life and he feels like the luckiest man in the world.
As if this year wasn't already big for Hunter, he releases his new album in October "Keep Rollin On". Stay tuned!
https://www.facebook.com/hunterhutch
https://www.instagram.com/hunter_hutchinson/
https://twitter.com/HunterHutch