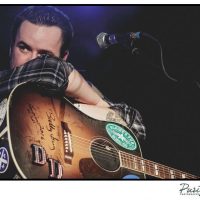 If you live in Lubbock, you have more than likely seen or spoken with Dalton Domino before. Being fans of his ourselves, we love this story and think everyone should get a chance to read it.
As Dalton will say, he faced troubles of his own after the success of his last album, 1806. Dalton was playing a show in Belton, Texas when he met a man and his 14-year-old son, Dalton. The father says in an article with Centexfun.com, "So, when I heard that Domino was playing in my hometown of Belton, Texas and that I'd have my 14 year old son with me, I was anxious for my son to meet and listen to Dalton Domino.  You see, my son is going through some life issues as well.  Domino is more of a role-model to my son as anyone."
The story between these two is one that will make your heart happy. Take a good read at the full article below.
Feature image from centexfun.com