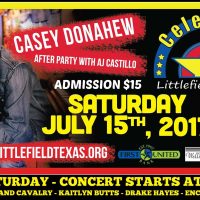 Celebrate Littlefield, Texas this Friday and Saturday! This is a two day celebration with a live outdoor concert from noon to midnight on Saturday, don't miss out.
Tickets are only $15, kids 5 and under get in FREE!
Coolers are $15 at the gate, please no glass bottles and no liquor.
Tickets: http://www.littlefieldtexas.org