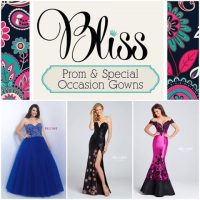 A Blissful Affair!
Jamie Lassiter
and
Bliss Prom and Special Occasion Gowns
have teamed up to give away THREE formal dress and accessories to three deserving young ladies!
Send Jamie an e-mail at JamiesYoungLadies.com and nominate someone you know- or nominate yourself- explaining why you think this person deserves a beautiful new formal gown for banquet or prom! OR you can stop by
Bliss Prom and Special Occasion Gowns
at 50th and Memphis and nominate someone in person!
On April 7th, our panel of fashion experts will choose three young ladies to receive a new formal gown with accessories courtesy of Bliss Boutiques! We are thrilled for this opportunity and hope you share this amongst your friends.